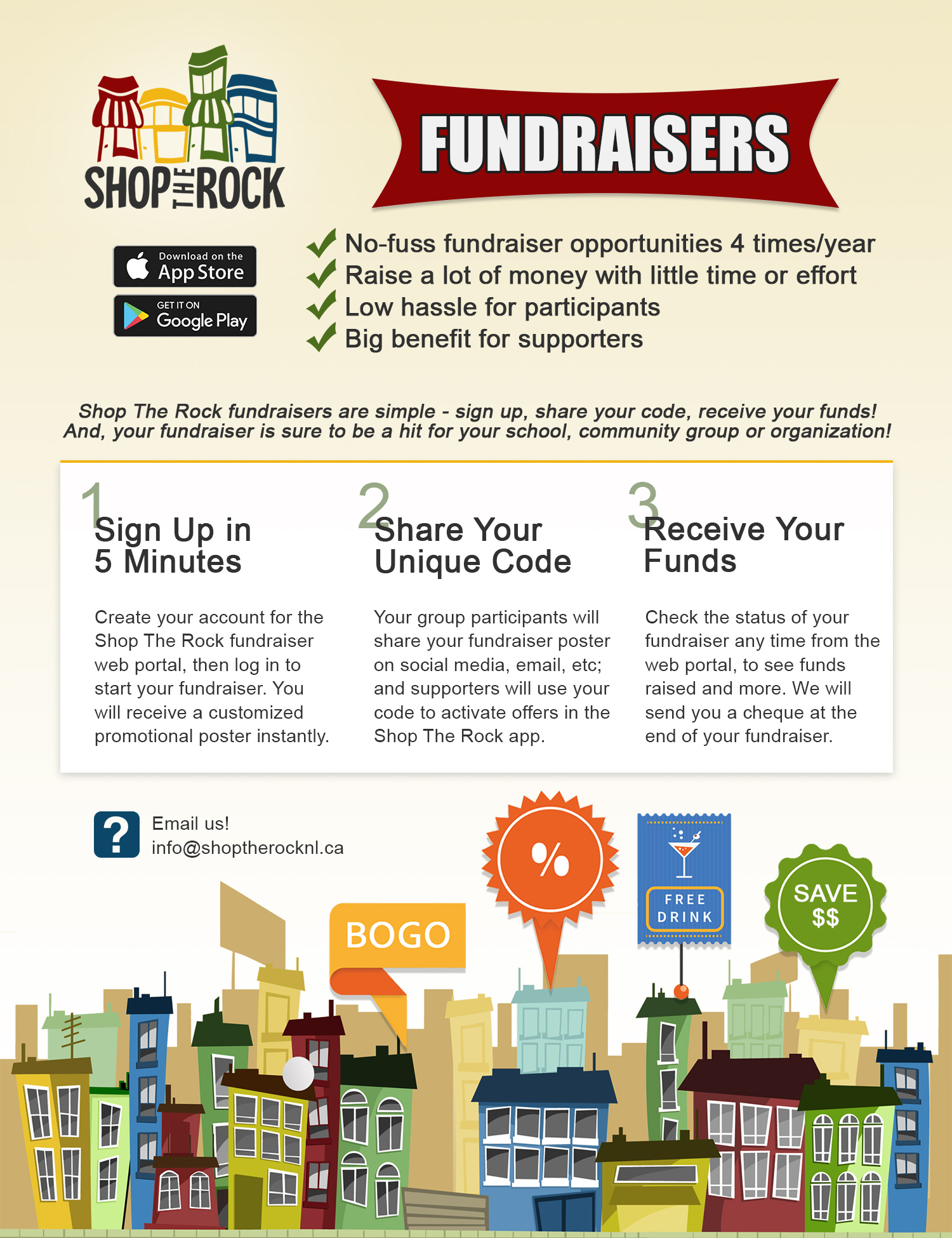 Shop The Rock fundraisers are sure to be a success for your school, community group or organization! 
We are happy to offer no-fuss fundraiser opportunities four times per year, in line with each coupon season. Running a fundraiser with Shop The Rock takes less than an hour of your time and costs you absolutely nothing; there's no need to collect forms, count money and distribute products.  It's an easy sell for participants, and supporters get their reward instantly. Here's how it works: 
Any non-profit organization, school, community group or sports/recreation group in Newfoundland and Labrador can run a Shop The Rock fundraiser.  Simply sign up and create your account for the Shop The Rock web portal.  From within the portal, click to start a new fundraiser within the first 3 weeks of any coupon season (see FAQ for applicable dates).  We encourage you to complete this within the first few days of the coupon season, to provide maximum benefit to your potential supporters as they will have longer to use their coupons.  
You will receive a unique fundraiser code and promotional graphic to launch your fundraiser.  Your code will be valid for 21 days from the time of submission, which will be your fundraiser period.  
You distribute the fundraiser graphic/poster to your participants (e.g. for schools, this would be students, parents and teachers).  You will receive a JPG image file you can print to provide a paper copy of fundraiser details, as well as send digitally (email) to participants.  
Participants will share the fundraiser details/promotional graphic and ask for support for the cause.  We strongly encourage you to provide the image file digitally to participants, as social media will likely be the main avenue participants use to share the fundraiser details. 
Supporters (consumers) will use your fundraiser code at time of purchase to receive a $2 discount when activating the current season's coupons/offers in the Shop The Rock app any time during your fundraiser period.  They will be able to specify who they are supporting (e.g. for a school fundraiser, the purchaser/supporter can specify the name of the student who informed them of the fundraiser).  
Our system will track the number of purchases/activations made using your fundraiser code.  You will also collect the same information you would usually obtain on paper forms (name of supporter and person/participant they are supporting).  You receive $3 for every activation in the Shop The Rock app using your fundraiser code.  At the end of your fundraiser period, we will send you a cheque, and you can sign in to your Shop The Rock web portal account to access a report listing the number of activations made using your code, participant names and their corresponding supporters.  
Shop The Rock fundraisers are that simple – sign up, share your code, receive your funds – and your fundraiser is sure to be a hit!  It's very low hassle for participants, and big benefit for supporters.  Everyone loves to save money, and with Shop The Rock fundraisers, consumers are not only gaining access to hundreds of dollars in savings but they are also instantly saving on the regular cost to access/activate the offers by supporting your fundraiser.  You (the fundraising group) can potentially raise thousands of dollars with very little time or effort needed to organize or manage the fundraiser.  Click
HERE
to get started!
For general information about the Shop The Rock app, please refer to the FAQ page.